Services

Blinds & Shutters
We make and supply all styles of blinds, using fabrics and trimmings to compliment the interior design of the room, such as: Roller, Roman, Pull-Up, Austrian and London blinds. We use specialist manufacturers to supply a large range of wood blinds and shutters in a variety of finishes for all rooms, such as conservatories, bathrooms and kitchens.

Lighting & Accessories
We specialise in designing bespoke lampshades. For something specialised, we can source from a variety of lighting suppliers all over the UK and Europe.  We also supply tassel tie-backs, holdbacks and a wide range of trimmings; including braid, walling braid, cord (rope), button tufts, tassel fringe, flat fringe and bullion fringe.

Decorating & Wallpapering
We offer a highly skilled Decorator & wallpapering Service.  Our team have over 30 years experience and work with all types of papers. From stripping the old wallpaper to hanging a new set, the experienced decorators at Timeless Interiors can help you with any wallpapering requirements. We work with all types of wallpaper, including:
Vinyl, Lining, Fabric and Printed Wallpapers.

Furniture & Upholstery
We source furniture in the UK and Europe, using reliable sources, with classical and innovative designs, to suit each client. We have a large library of catalogues for clients to browse through.
Working with several furniture makers & upholsterers, we design and create a variety of furnishings, with your input. These include sofas, armchairs, dining chairs, beds, stools, dressing tables, headboards. We also recover and/or repair chairs or sofas, to give new life to furniture

Curtains and Pelmets
Timeless Interiors have been making curtains for 30 years, with a great team of designers trained in a variety of curtain styles, taking each room into consideration, and interpreting the design to suit the room. Curtains are made under the care of designers, who oversee each project, paying great attention to the detail and finish of every piece.
Pelmets offer the perfect finishing touch to any window scheme, while complimenting both contemporary and traditional settings. They are individually designed in any style to suit your curtains, interior and personal taste. Pelmets can be simple, flat and understated or highly decorative and embellished with trim.

Fabrics & Wallpaper
We help with selecting a particular fabric or scheme, whether designing for a single room or a whole house. Our vast range of fabrics and samples are updated constantly, offering the latest designs to our clients. We work with fabric suppliers such as Colefax and Fowler, Romo, Villa Nova, Zoffany, Sanderson and many more.
Timeless Interiors can supply custom wallpapers, matching client's paint colours as required. We also supply traditional and contemporary wallpapers as well as popular, innovative and textured wallcoverings from the best names in interior design. Some of these include Cole and Son, Farrow and Ball and Designers Guild.

Cushions, Bedcovers and Valances
We create beautiful cushions with trimmings, as well as tablecloths, quilted or plain bedcovers and valances. Cushions can be made to order in any size, shape or filling, using feather and down or hypo-allergenic cushion pads. Sofa cushions can be made using feather and down, or foam with down/poly wrap, depending on your requirements.
We can also design and supply bespoke throws, eiderdowns and bedcovers that can be quilted. For finishing the bed frame, a bespoke valance creates the complete look and we design these to your requirements.

Headboards & Beds
Our headboards are custom made by highly skilled upholsterers. They can be made in a large variety of styles to work with any scheme. You can look at our various designs, from a simple rectangle to a more ornately shaped top edge. These can be replicated or adapted to fit your requirements.
As with all our curtains and pelmets, beds can be dressed to complement any scheme.
The options are endless and our designers and workroom have the experience to realise every possibility. Bed valances are made to measure. They can be gathered, pleated or flat, finished with piping and lipping, made in a fabric of your choosing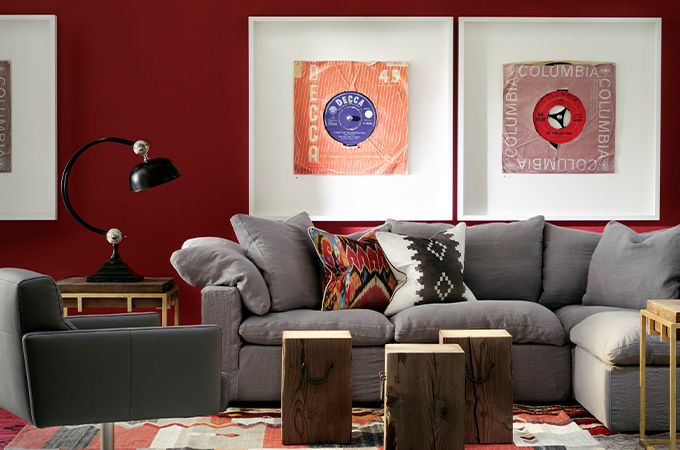 Interior Design Service
Timeless Interiors provides interior design services to property developers, and private residential clients. Working with our clients' vision and aspirations, we design spaces that make every project unique. We will start the process by meeting you and seeing your space. The starting point from which a scheme unfolds can be from a minute detail: maybe an interesting texture, a vintage fabric, a colour taken from a piece of artwork, a character or shape of furniture or a personal collection of items. From there we create inspiration boards to get the feel and the right expression. All creative and technical aspects are considered, from the layering of materials to the suggestion of architectural specifications, creating overall depth and possibility.
Each project has a dedicated Interior Designer, ensuring you get a personal service from professional experts who understand you, your space and your vision.